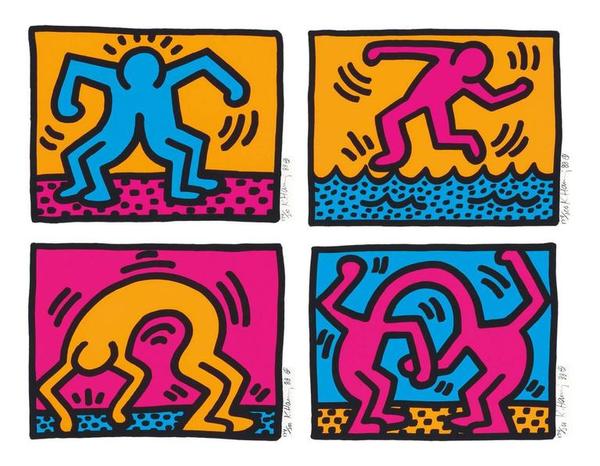 Keith Haring
Pop Shop II
1988
Silkscreen
12 x 15 in. each
Edition of 200; matched number set
Pencil signed, dated and numbered
This must be sold as a set of 4 only.
About This Work:
Keith Haring was born on May 4, 1958 in Reading, Pennsylvania. He started developing a love for drawing at a very early age, learning basic cartooning skills from his father and from the popular culture around him, such as Dr. Seuss and Walt Disney.
Upon graduation from high school, Haring moved to New York City and enrolled in the School of Visual Arts.
In New York, Haring found a thriving alternative art community that was developing outside the gallery and museum system, in the downtown streets, the subways, the clubs and former dance halls. Here he became friends with fellow artists Kenny Scharf and Jean-Michel Basquiat, as well as other musicians, performance artists and graffiti writers, all together forming the New York art community. Haring was swept up in the energy and spirit of this scene and began to organize and participate in exhibitions and performances at Club 57 and other alternative venues.
Though many associate the artist Keith Haring with his seemingly innocuous images of barking dogs, crawling babies, beating hearts and flying saucers, his work often tackled social justice issues – from nuclear proliferation, to AIDS, to the environment to racial and income inequality.
In April 1986, Haring opened his first Pop Shop, a retail store in Soho selling T-shirts, toys, posters, buttons and magnets bearing his images.
Haring considered the shop to be an extension of his work, intended to allow people greater access to his work, at a lower cost. The shop received criticism from many in the art world, however Haring remained committed to his desire to make his artwork available to an audience as wide as possible, and received strong support for his project from friends, fans and mentors, including Andy Warhol. This is the origin of the Pop Shop series, that at the time could be acquired for what could be considered an affordable price back then, and that now are one of his most iconic and recognized works.
Pop Shop prints were released as a set of four individual pieces or one quad of the different images.
This work of the week is called Pop Shop II, a set of four individual works, all pencil signed and all matching numbers.
Haring was a child of Pop. In his Pop Shops, he used his iconic symbols and characters in a playful and joyful way, with bright colors and bold contours of cartoonish figures.
While his human figures generally depict people and players in society, human figures depicted upside-down, like the one in Pop Shop II, are usually B-boys and B-girls, the dancers of hip-hop, doing the iconic move in which they spin on their head. Figures contorting in backbends or jumps are also depictions of break dancers, some of the most iconic cultural figures of the New York City of the 1980's.
In the Pop Shops, Keith Haring always kept imagery accessible and easy to understand, in order to grab the eyes and minds of viewers and get them both to enjoy themselves and to engage with important concerns.
Haring's genius was his ability to communicate very directly, very immediately through his chosen symbols and iconography. The joyfulness and a wonderful lightheartedness in his work, is a message of his vision and strong hope of a better world to come.