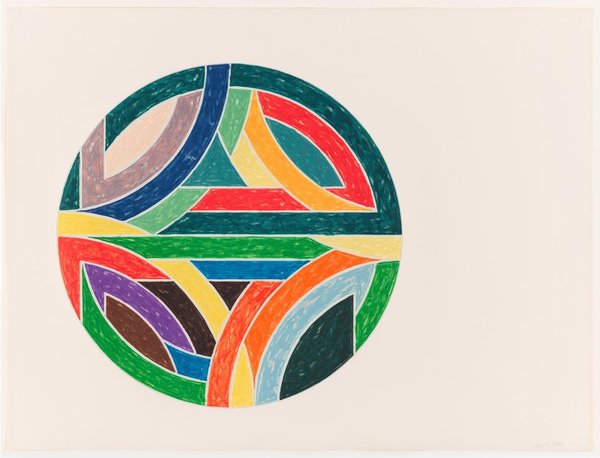 Frank Stella
Sinjerli Variation IV
1977
Lithograph and screenprint
32 x 42 1/2
Edition of 100
Pencil signed and numbered
About This Work:
Frank Stella (b. 1936), an American minimalist and geometric abstract expressionist is known for producing works emphasizing the picture as object rather than as representation. He has said: "a picture is a flat surface with paint on it – nothing more." Stella's works do not have a clear reference to the world, they are compositions of the basics of the elements of art and geometry. Color, line, and form are what inspire him. 
The Sinjerli Variation Series of six lithographs, was published in 1977 by Petersburg Press in New York, seven years after the artist's first retrospective at MoMA. Aged 41, at the time, he was the youngest artist to receive such an honor. 
The Sinjerli Series is derived from Stella's original painting Sinjerli I of the Protractor Series, dated from 1967 to 1970. The inspiration of the Protractor Series, in addition to the names of the works, came from the circular shape of cities from the ancient civilizations of Asia Minor. Sinjerli was a city of the Ancient Anatolian people of the Hittite Empire, which reached its height in the 14th century BC. It is located at the foothills of the Anti-Taurus Mountains of southern Turkey. The fortified citadel of Sinjerli was outlined by an almost perfect double walled circle, which connected with the geometric inspiration of Stella's body of work.
Each Sinjerli variation is composed of two semi-circles, or protractors and positioned to the left of the sheet, slightly lower than midlevel. Each lithograph is composed of elaborate patterns of intersecting circular forms, arranged in a manner that removes any indication of depth. While at first, the form is seemingly symmetrical, the interweaving of the arcs also gives the illusion of unending line-work. 
For the series, Stella made use of bright and vibrant colors. The hues are not tinted as a flat application, but rather have a painterly texture and this result was accomplished by a three-step process. The first step required the deposition of a toned ground, the result of a broadly drawn plate, also known as "full crayon." Secondly, a looser, textured drawing was applied, the "smear crayon." Finally, the finishing touch was a high gloss glaze, named "loose crayon."
Today, Frank Stella continues to live and work in Manhattan and commutes to his studio in Rock Tavern, NY on the weekdays. His most recent retrospective took place at the Whitney in NYC from October 30, 2015 to February 7, 2016.