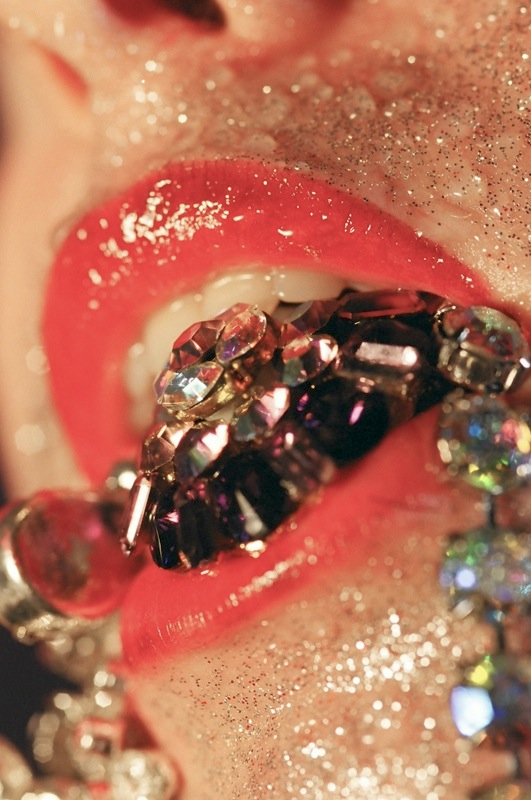 MARILYN MINTER
Prism
2009
Chromogenic print
20 x 16 in.
Artist's Proof (A.P.) of 18
Signed, titled, dated and numbered on verso
About This Work:
Marilyn Minter (born in 1948) is an American contemporary photographer/artist.
Born in Shreveport, Louisiana, and raised in Florida, she moved to New York City in 1976, where she currently works and lives, after earning a master of fine arts degree at Syracuse University. 
Marilyn Minter has been a part of the New York art scene since the late 1970s. Her artistic career started with a series of now celebrated photographic studies of her drug-addicted mother while she was still a student in Florida.
At the end of the 1980s, she painted herself straight into fevered and often bitter controversy when she began using imagery taken from porn magazines and Pop-derived images that often had hidden sexual references. 
Her infamy was even more exacerbated in 1990 when she was the first artist to self-produce her own TV advertisement, titled 100 Food Porn, which ran during late-night mainstream television shows.
Starting from the 1990s, she started to gradually refine her style and imagery so that, while still suggesting some kind of sexual undercurrent, her photographs and paintings seem equally to breathe the atmosphere of high fashion and contemporary glamour.
For over three decades, Marilyn Minter has produced lush paintings, photographs, and videos that vividly manifest our culture's complex and contradictory emotions around the feminine body and around the concept of beauty, by bringing into sharp, critical focus the power of desire.
Her photographs and works often include sexuality and erotic imagery. Minter does it by using conventional darkroom processes. She never crops or digitally manipulates her photographs, a feature that is becoming more and more rare.
Prism is a refined version of Minter's early works, which despite still having pornographic undertones, exudes a sense of glamour and high-fashion.
This work focuses on a hyperrealistic close-up of seemingly glamorous red lips.
By using this imagery and aesthetic, we are confronted by our own preconceived notions of what exactly constitutes beauty. Minter wants to convey the concept of beauty through non-beautiful and confusing elements, through a dichotomy of imagery and sense.
Through this work, one can see how Marilyn Minter both celebrates and criticizes glamour. By depicting these sexy red lips, with shiny jewels and sparkling glitters, that reflect light, she is portraying the complexities of glamour. This work not only depicts glamour, but also what glamour "feels like".
Marilyn Minter has been the subject of numerous solo exhibitions and group exhibitions all over the worlds. In April 2015 Marilyn Minter opened her first major retrospective in the Museum of Contemporary Art Houston. This exhibition contains works that Minter had developed from 1976 to 2013. Perfectly suited, the exhibit was titled Pretty/Dirty.