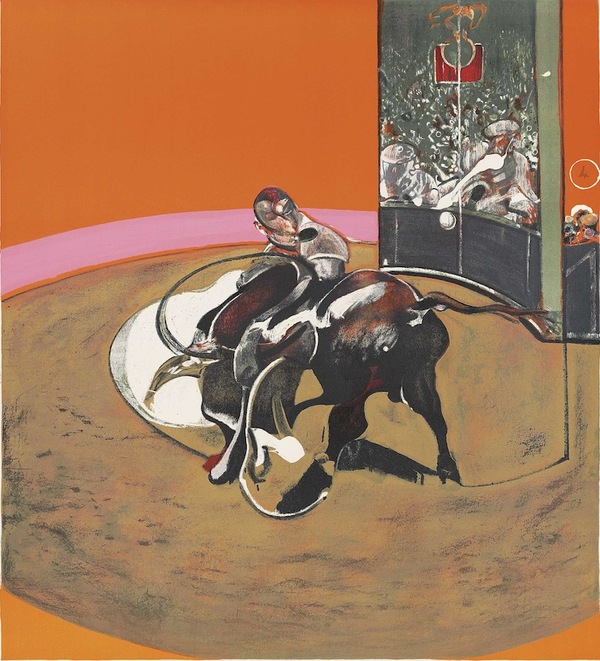 FRANCIS BACON
Study For Bullfight #1
1971
Lithograph
62 3/4 x 46 7/8 in.
Edition of 150
Signed and numbered
About This Work:
This dynamic print by Francis Bacon is based on the first of three bullfight studies that Bacon painted in 1969 following several trips to South of France and Spain.
In these works, the artist explores the subject of the corrida, after he had the opportunity of encountering the bullfight first hand. This subject became more and more significant for the artist, and a large number of books and postcards on bullfighting were found among the items in Francis Bacon's studio.
In Study For Bullfight #1, one can see several elements typical of Francis Bacon's style. One among others, the disfigured head of the bullfighter, which conveys pain and the hectic movement of this cruel fight. Bacon's great admiration for Picasso's work, especially the Tauromachie (Guernica), is visible not only in the cubistic style head, but also in the body of the bull, depicted as knot of lines and shadows, in which just one horn, the tail and the bull's rear legs are recognizable.
His style is also characterized by flat backgrounds and sense of motion, derived from the frequent use of photography and film stills as sources for portraiture. Here we can see a very unsettling orange background, used in several subsequent works, and some curved lines around the bull, indicating the rotatory movements of the fight. On the right, an open panel reveals a crowd of onlookers witnessing the violent scene.
Bacon frequently contemplates the fragility and suffering of the human condition. Bacon's Study For Bullfight #1 is a work in which the artist speaks of an unalterable condition of human struggle through the visual allegory of a bullfight. Bacon was actually influenced by the violence and drama of the sport.
Francis Bacon was a dominant figure of postwar art, and his artworks remain unmistakable for their contorted emotion and visceral physicality. "I would like my pictures to look as if a human being had passed between them, leaving a sort of human presence" he once said.
Mostly self-taught, Bacon nonetheless drew influence from an wide range of artists, from Vincent van Gogh to Diego Velázquez, making explicit visual references to many of their works in his art. His lasting influence can be seen among Young British Artists, in particular Damien Hirst.
Click here to see Damien Hirst speaking of Francis Bacon's work