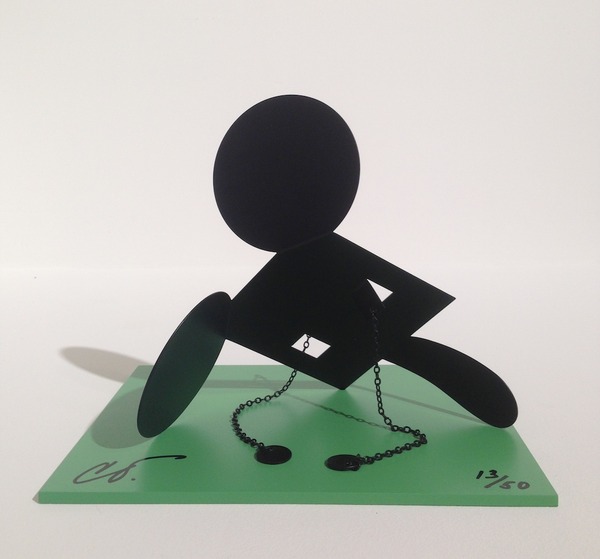 Claes Oldenburg
Geometric Mouse Scale E "Desktop"
2013
Painted aluminum sculpture on painted aluminum base
6 1/2 x 8 1/4 x 6 1/2 in.
Edition of 50
Signed and numbered in ink on base
About This Work:
Claes Oldenburg is an American sculptor, best known for his public art installations typically featuring very large replicas of everyday objects. 
Born in 1929 in Sweden, Oldenburg spent much of his adolescence in the United States, before moving permanently to New York in 1956. Oldenburg studied at the Art Institute of Chicago and subsequently started his career in New York City, where he used to participate in the array of happenings that began to take place in the late 1950's.
Many of Oldenburg's works depict 'mundane' objects and, at first, they were ridiculed before being accepted by the art world – but they were also defined "brilliant", due to the reaction that the pop artist brought to a 'tired' abstract expressionist period.
Oldenburg first orders his impressions of the world through sketches and writings in his ever-present notebooks; then he creates models and drawings form another layer of thinking.
The purpose of Oldenburg's art is to uncover the mystery and power of commonplace objects by morphing their scale, shape, and texture, embracing what he calls "the poetry of everywhere". As source of inspiration, the artist always uses things made and utilized by human beings. Used, out-of-date or simply banal, they look rescued from oblivion by the artist. While recreating objects, Oldenburg alters their specifics, transforming them through changes in material, scale, context and exaggerations of forms that lend them more than one identity. 
This week's Work Of the Week, Geometric Mouse Scale E "Desktop", is a great example of Oldenburg's personal way of making art.
The source of inspiration for making this mouse is an old movie camera. The mouse form is combined with that of an old movie camera, whose square box and two circular film spools mimic his face and ears, while the grip is the nose of the mouse.
As in Oldenburg's other artworks, this image blends high and low art, but is more personal. The artist has even suggested that the Geometric Mouse is his alter ego, stating that he first took the subject of the mouse from one of the most iconic and popular characters ever: Mickey Mouse. The mouse is an extremely recurring subject in Oldenburg's body of work. It is considered his artistic symbol par excellence, for his typical humor and use of obsolete objects and iconic characters as main source.
The concept/name of the mouse 'desktop' also plays on the concept of fast paced movement toward technology in today's world, but is a nod to the past of how fast the world is actually moving. The Desktop Mouse can also be seen by today's generation as a play on a computerized mouse on the old style green mouse pads. A mouse on a mouse pad.
By deforming and decontextualizing the object, Claes Oldenburg helps it to become estranged, so that we are finally able to look at it in a different perspective: as a work of art. This happens because the artist believes that this object possesses a certain aesthetic quality, stemming from its appearance, and therefore displays it for the appreciation of others.
Oldenburg has said himself that "If I didn't think what I was doing had something to do with enlarging the boundaries of art, I wouldn't go on doing it".
To watch the video of Claes Oldenburg explaining the Geometric Mouse, click on the image below: