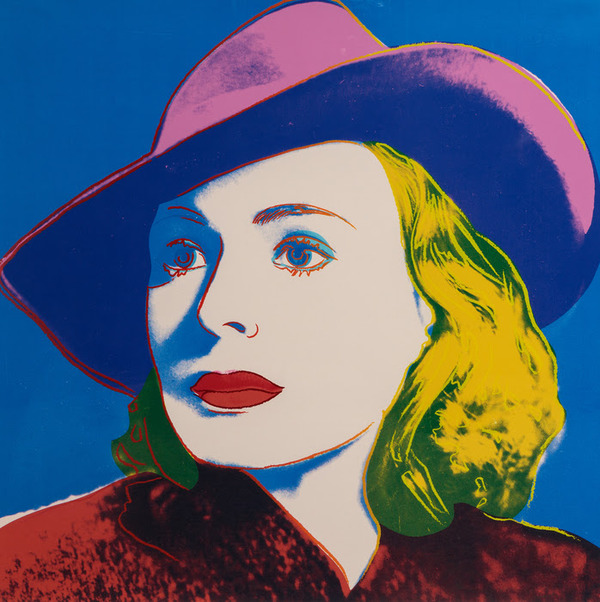 ANDY WARHOL
Ingrid Bergman, With Hat FS.II 315
1983
Screenprint on Lenox Museum Board
38 x 38 in.
Edition of 250
Pencil signed and numbered
About This Work:
Andy Warhol was an American artist who has always been a leading figure in the visual art movement known as Pop art. His works explore the relationship between artistic expression, celebrity culture and advertisement that flourished by the 1960's. Andy Warhol's Marilyn and Andy Warhol's Soup Cans are some of the most recognized and collectible of his artworks.
However, after the success of the Campbell's Soup series in the early 1960's, Warhol began creating screenprints focused mostly on movie star portraits including Marilyn Monroe, Elvis Presley, Elizabeth Taylor and Ingrid Bergman.
Andy Warhol's stunning images of Academy Award winning actress Ingrid Bergman, were created by the artist at the request of a Swedish art gallery in the 1980's, Galerie Borjeson, in Malmo, Sweden.
The Ingrid Bergman Series is made up of three types of screen prints. The source images used for these portrait pieces include a publicity photo (Herself), and movie stills from her role in Casablanca (With Hat) and from the movie The Bell of St. Mary's (The Nun).
Of course, when we think of Ingrid Bergman, we think of her playing Ilsa, the long lost love interest of Rick, played by Humphrey Bogart.
No one can ever forget Bergman standing on the runway, all teary eyed and wearing the famous hat, as Bogart makes her get on that plane.
This was her most famous and enduring role, and that is why Warhol portrayed here in the hat as one of the three pieces in the Ingrid Bergman Suite.
This important movie role is made even more dramatic in this iconic print. The strong color palette and the bright blue background are just striking, together with the deep and nostalgic expression on her face.
Like the majority of his works, once again, this print is indicative of Warhol's obsession with all things relating to fame, especially movie stars. For this reason, his artwork can also be considered as a sort of visual recording of the culture of his time.
Pop Art marked an important new stage in the breakdown between high and low art forms. Warhol's paintings from the early 1960's were important in pioneering these developments, but it is arguable that the diverse activities of his later years were just as influential in expanding the implications of Pop Art into other spaces, and further eroding the borders between the worlds of high art and popular culture.
Andy Warhol is now considered one of the most influential artists of the second half of the 20th century, who created some of the most recognizable images ever produced.