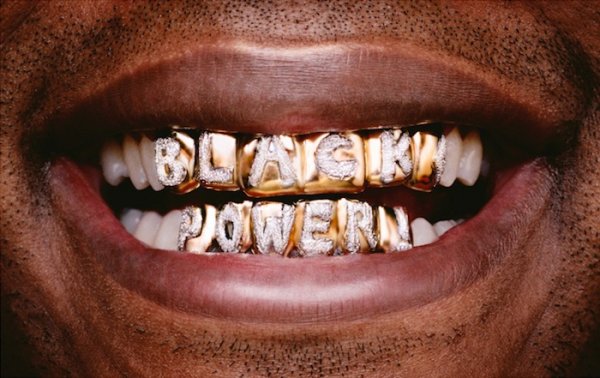 HANK WILLIS THOMAS
Black Power
2008
C-print
16 x 20 in.
Edition of 30
Signed and numbered in ink
About This Work:
Hank Willis Thomas is an American artist who employs the familiar, or "what-goes-without-saying", to draw connections and provoke conversations about issues and histories that are often forgotten or avoided in our commerce-infused daily lives. 
He gained wide recognition with highly provocative artworks which address the commodification of African-American male identity by raising questions about visual culture and the power of logos. 
His most important work is represented by the so-called Branded Series, among which is the dynamic piece Black Power, probably the most famous of the series.
In this work of the week, Black Power, Hank Willis Thomas presents a set of teeth on which a gold grill reads BLACK POWER.
Black Power, as well as other works by Willis Thomas, deals with issues of grief, black-on-black violence, the contributions of corporate culture to the crisis of black male identity, and African-American representation in advertising and media.
For this reason, some art critics have categorized Willis Thomas' work as belonging to the "post-black" genre, where racist stereotypes are reinterpreted or reconstructed, and have described his work as "un-branding advertising": stripping away the commercial context, and leaving the exposed image to speak for itself.
Something very important about Willis Thomas' work is that it has been heavily influenced by the tragic loss of his young cousin, Songha Willis Thomas, who was murdered by another black man outside a Philadelphia night club in an incident of violence involving a gold chain.
The artist credits this event with helping him find his "artistic focus". 
Hank Willis Thomas (born in Plainfield, New Jersey, 1976) received his BFA from New York University's Tisch School of the Arts, and his MFA in photography, along with an MA in visual criticism, from the California College of the Arts, San Francisco.
Since then, he has exhibited in numerous galleries and museums in the United States.
With his characteristic strong dark humor, every time Willis Thomas creates a visual dialogue about the pressing issues of race, representation, and a sort of present day enslavement through consumerism which applies to the American society, with a focus on African-American youth.