---
---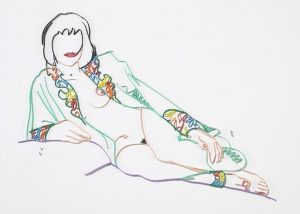 Tom Wesselmann
Monica Lying on One Elbow
1986-1998
Alkyd oil on cutout steel
8 x 13 in.
Edition of 25
Signed and numbered on verso
---
---
About the work:
Considered by many to be a Pop artist, Tom Wesselmann would rather be called an artist of the post-Matisse era, according to his wife Claire. His works recall Matisse, in a contemporary setting.
Nothing can be truer, as evidence by this week's Work of the Week! WOW! Monica Lying on One Elbow with Robe by Tom Wesselmann is a steel cut out painted alkyd oils created in 1986, and the edition was completed in 1997. We can see how it can be compared to Matisse's Odalisques.
In the 80's, Wesslemann started toying with the idea of capturing the spontaneity of his sketches, complete with false lines and errors, and realize them in the permanence of metal. He called these cut outs "Steel Drawings". When the first steel cut was realized, Wesselmann commented, "I anticipated how exciting it would be for me to get a drawing back in steel. I could hold it in my hands. I could pick it up by the lines, off the paper. It was so exciting. It was like suddenly I was a whole new artist."
Odalisques were the most popular subject of Matisse's Nice period, during the 1920s. They appear in diverse poses in innumerable canvases: reclining, lounging, seated, or standing, frequently with their arms raised or folded behind the head. Dressed or semi-dressed in exotic attire, they are placed against a decorative background of richly patterned fabrics and oriental rugs and surrounded by oriental accoutrements. Matisse's primary model for these depictions, from 1920 to 1927, was Henriette Darricarrière, a young woman skilled in the arts of ballet, piano, violin, and painting who lived near Matisse's studio.
The model's sculpturesque body, languorously stretching across a couch, exudes sensuality and carnality, enhanced by her seductive attire or painterly patterned backgrounds. The mood is clearly palpable. Yet, contemplating the work, one gets the impression that the artist somehow distanced himself from the erotic content of the picture while leaving the excitement of recognition to the viewer.
All this can be said of Wesselmann's images of Monica, who was Tom Wesselmann's favorite muse. This steel drawing cut out, Monica Lying on One Elbow with Robe, is a modern day Odalisque.
Here the viewer is drawn to Monica, by her seductive reclining position, and her half opened robe, exposing just enough, suggesting sensuality. Leaving no attention to detail behind, Wesselmann goes through great length to make sure that Monica's robe is a full of little details such as the multicolored flowers on the lapels, and cuffs. This can be thought of as a contemporary tip of the hat to Matisse's patterned backgrounds in his painting.
It is this detail that makes this particular steel cut the most rare and desirable of all the editioned steel cutouts. Monica Lying on One Elbow with Robe is considered the most sought after steel cut.