---
---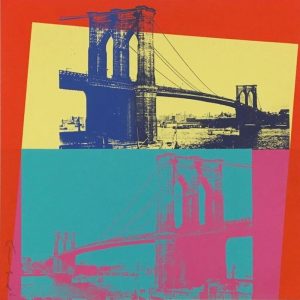 Andy Warhol
Brooklyn Bridge FS II.290
1983
Screenprint
39 1/4 x 39 1/4 in.
Edition of 200
Pencil signed and numbered
---
---
About the work:
When you were young did your parents ever say . . . If your friends jumped off the Brooklyn Bridge would you follow them?
Mine did all the time, and we did not even live in Brooklyn, let alone New York.
Along with the Golden Gate Bridge, The Brooklyn Bridge is the most well-known and beloved bridge in America. It is an American Icon, representing American ingenuity, American grit, and American pride. The is why Andy Warhol chose to paint fantastic modern day marvel.
This week's Work of the Week! WOW! is Andy Warhol's Brooklyn Bridge.
Completed on May 24th 1883, after 14 years of construction, the Brooklyn Bridge set many records, it was the world's first steel-wire suspension bridge, the first fixed crossing across the East River, and at the time it opened, the longest suspension bridge ever built by 50%, it is also one of the oldest roadway bridges in the US. In 1964 The Brooklyn Bridge was designated a National Historic Landmark by the National Park Service, and in 1972 became a New York City Landmark by the Landmarks Preservation Commission.
In 1983, The Brooklyn Bridge celebrated its centennial anniversary. Exhibitions, lectures and performances were organized, including a 9,600-rocket firework display. President Ronald Reagan was also part of the festivities, leading a formal procession of cars along the bridge to mark the start of the celebrations. The entire production was put together by the Brooklyn Bridge Centennial Commission, which produced a brochure listing all the related activities taking place from May through October of 1983. It seems only fitting then that the Commission approached another American and New York City icon to create the official celebration image: Pop Art star, Andy Warhol.
Warhol's depictions of iconic American symbols are what lead to his rise to the most famous American artist of the 20th century. He captured the political and commercial strength of the post-war American era and gave them an artistic platform.
As with most of his work, the imagery of Brooklyn Bridge is based on actual photographs. What is different in this case is the use of multiple images, as opposed to just one. The juxtaposition of the two images better captures the power and symbolism of the Brooklyn Bridge as one of the greatest American engineering feats of the 19th century. To create a visual 3D effect of the bridge on a 2D medium, Warhol used color block techniques and multi-layer superimposition of colors, tricking the eye to think the bridge is popping out of the sheet.