---
---
---
---
KAWS
Warm Regards
2005
Screenprint
20 x 16 in.
Edition of 200
Pencil signed and numbered
About This Work:
"When I'm making work, I'm always thinking how can I communicate within these avenues [of art] to make those bridges for kids and pull them out of their holes into other worlds?"
– Brian Donnelly aka KAWS
Brian Donnelly aka KAWS is a is a pop artist and designer who started his career as a graffiti artist in New York. moving on to subvertising.  Subvertising is a portmanteau of subvert and advertising. It refers to the practice of making spoofs or parodies of corporate and political advertisements.  Subvertisements may take the form of a new image or an alteration to an existing image or icon, often in a satirical manner.
It cuts through the hype and glitz of our mediated reality and, momentarily, reveals a deeper truth within.
Fascinated with how cartoon shows, such as The Simpsons or Sponge Bob Square Pants, can have such an impact on people's lives and minds, Kaws' imagery are subverts of American Icons and cartoon characters.  They are universally understood and go above and beyond language and culture.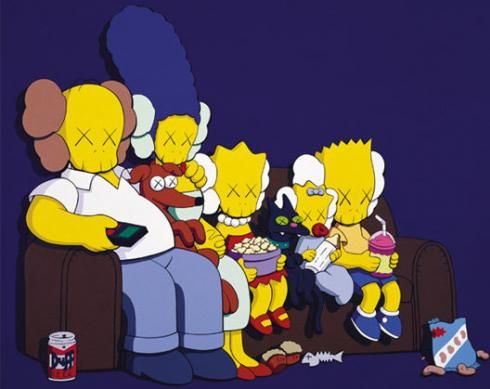 The Kimpsons
For example, Kaws has a painted a series called The Kimpsons a subvert of the popular cartoon The Simpsons. Kaws explains that he "found it weird how infused a cartoon could become in people's lives; the impact it could have, compared to regular politics.
This week's Work Of the Week (WOW), Warm Regards is another example of a subvertisement that speaks to society's use of emojis, as an every day visual language, in which people communicate and express emotions and feelings.  Emojis have replaced our words.  Can we write a story with emojis?  Can we read a book filled with emojis?  Is that what's next?
Kaws' point is further brought out by the specific use of one emoji in particular, the Poop emoji, with a very witty title, Warm Regards.  It is left up to your interpretation.   The simplicity of this image of just the emoji centrally located on the paper, with Kaws' iconic "XX" for eyes really says it all.
The effectiveness of this simplistic style to make a statement about society is not one that we have not seen before.  Kaws' artistic idol is Andy Warhol.  Warhol's use of a single pop image on a canvas or sheet of paper, to convey a message on society was not only groundbreaking, but also extremely effective in getting its point across.
A few perfect examples of this are the Electric Chair, Mao and Marilyn
One simple image, can say some many things.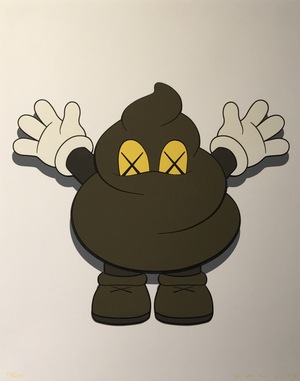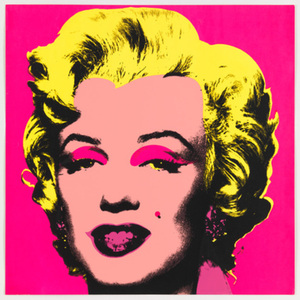 KAWS – Warm Regards                                           Andy Warhol – Marliyn Monroe – FS II.31 
Kaws not only recognizes this, but employs this technique with admiration, as he carries the torch continuing to create art in a manner that speaks volumes about the world and its societies.