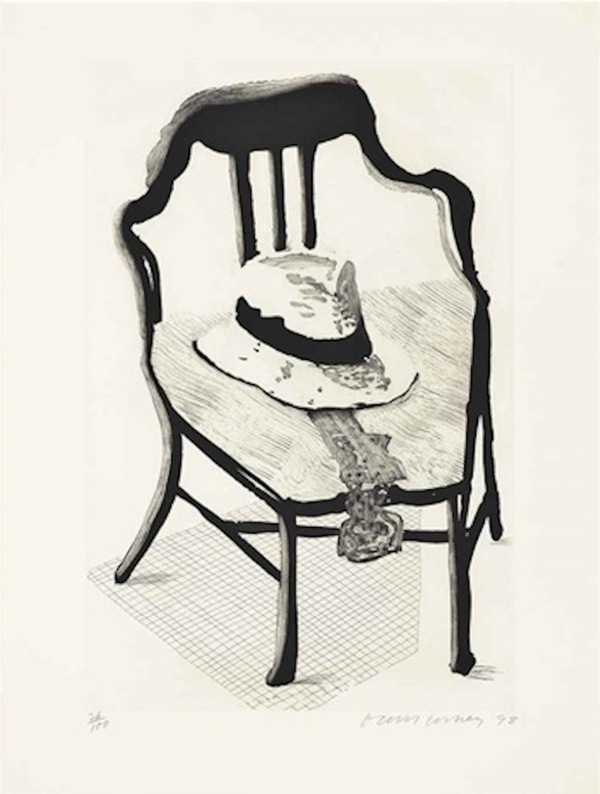 DAVID HOCKNEY
Hat On Chair, from The Gedzahler Portfolio
1998
Etching aquatint
29 1/2 x 22 3/8 in.
Edition of 100
Pencil signed, dated and numbered
About This Work:
David Hockney is considered not only an important contributor to the Pop Art movement of the 1960s, but also one of the most influential British artists of the 20th century.
During his artistic career, Hockney has produced a wide range of artworks making use of several techniques, but he has always worked on portraits. From 1968, and for the next few years, he painted friends, lovers, and relatives. 
This is the case of Henry Geldzahler. Henry Geldzahler was the first curator of 20th-century art at the Metropolitan Museum and New York City's Commissioner of Cultural Affairs. His personal relationships with many of the artists selected for his exhibitions gave him special insight into their works. Andy Warhol himself produced a 90-minute film consisting nothing more than Geldzahler smoking a cigar. His written work focused exclusively on contemporary artists and much of his writing is more criticism than art history.
Hockney's Hat On Chair is one of ten works in the The Geldzahler Portfolio, published in 1998. Other artists that contributed to this portfolio are Jasper Johns, Roy Lichtenstein, James Rosenquist, David Salle, and Frank Stella among others. Dennis Hopper even contributed a photograph of Geldzahler, Warhol, and Hockney smoking.
Hockney's Hat On Chair is one of the most interesting. It is an etching of a Panama hat and bow tie on a chair. Hockney often painted chairs. To Hockney, the Panama hat and bow tie represented the most iconic images Henry Geldzahler, so he preferred to realize such a portrait instead of a "regular" face. In this sense Hockney's own presence is implied here, since this very personal way to portrait Henry Geldzahler suggests the artist's unique point of view and sensitivity.