---
---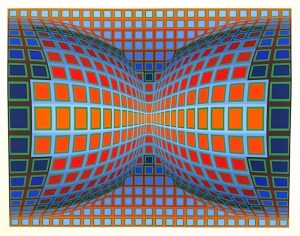 Victor Vasarely
Papillon
1981
Silkscreen on Arches paper
30 7/8 x 37 3/8 in.
Edition of 250
Pencil signed & numbered
---
---
About the work:
Art historians credit Victor Vasarely with creating some of the earliest examples of Op Art in the 1930s. He experimented with techniques decades before the establishment of the movement in the 60s, and is widely regarded as the Father of the Op Art movement.
"Op Art" is short for Optical Art, which was coined by Time Magazine in a 1964. It is a style known for creating optical illusions from extremely precise repeating patterns, interlocking shapes and vivid yet strictly defined color palettes.
The genre marked the first time in Art History that the Theory of Visual Perception would be systematically studied and applied by artists. In this theory, psychologists distinguish between two types of processes in perception; the first caused by our purely physical optical sense and the second by our subjectively learned world view. Op Art was therefore driven by artists who were interested in investigating various perceptual effects; effects that confuse and fascinate.
This week's Work Of the Week! WOW! is Victor Vasarely's Papillon.
In this work, Vasarely draws his viewer into a geometric realm, a grid-like composition that appears to warp. The vertical centre point seems to recede backwards, away from the viewer, with the left and right sides of the image swelling outwards in a bulbous spherical distortion. The French word "papillon" means butterfly which is represented in the linear symmetry of the work.
The feeling of movement and depth are created by Vasarely's use of lines decreasing in scale towards the central line. Vasarely's masterful use of warm and cool colors across the field also serves to provide the viewer with the feeling of kinetic energy, depth and space. These optical games physically affect the viewer, the results of which are timeless, exciting and innovative as they engage and captivate the viewer with depth perception and spatial distortion.
Vasarely truly created "an art for all." An art that the viewer can appreciate without the knowledge of art history, an art in which the final image is the product of the viewer's own eye without contemplation.
As Vasarely stated: "What is at stake is no longer the 'heart' but the retina, and the connoisseur has now become a study object for experimental psychology. Harsh contrasts, the unbearable vibration of complementary colors, the flickering of linear networks and per mutated structures…all these are elements in my work whose task is no longer to plunge the viewer into a sweet melancholy but to stimulate him."