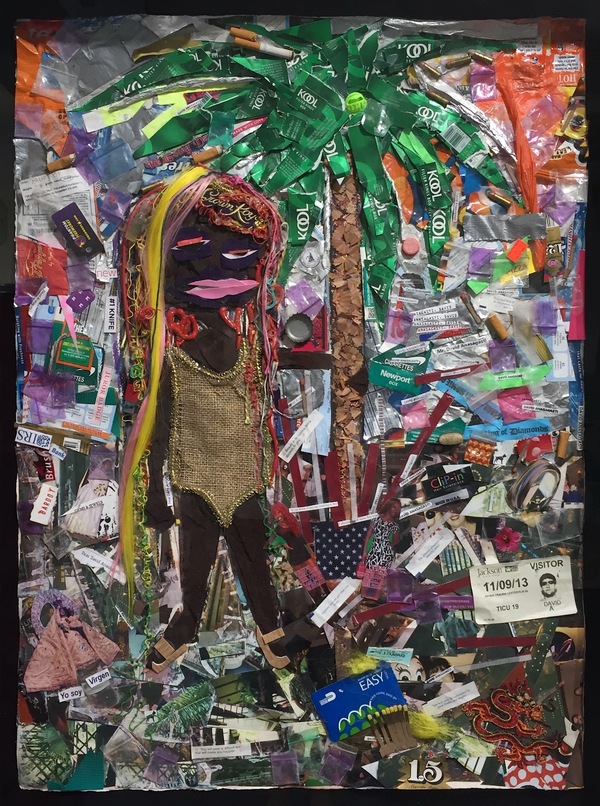 Ahol Sniffs Glue
Tropical Depression In Paradise
2017
Mixed media collage
30 x 22 in.
Signed on verso
About This Work:
This work presents Ahol Sniffs Glue's famous lovable characters in a completely different light than what we are used to. For a very long time Ahol has been working in a completely different style and medium, but was never fully confident in showing that work. Not because the style was not good, or the work was not of the highest caliber, but because for as long as he can remember, his artistic career was built upon a certain style, that everyone has known and loved for so long. This is a drastic change in style that, the artist feels, "feeds his soul".   
Tropical Depression in Paradise is made of collaged elements of cloth, felt, thread, wood, a Crown Royal sack, Kool cigarettes, and even beard hair, to name a few. With his recent success, his work can sometimes become glamorized. While the whole time, Ahol maintains that his work is the exact opposite of glamor.
He has always tried to show the darker, grittier, real side of life in Miami, not the Miami that outsiders know of, sunshine, beaches, palm trees, bronzed women in bikinis at the clubs in South Beach.
The central figure is his well known figure of an atypical, typical person standing on the street, perhaps Biscayne Boulevard. Looking closely at her, one can see she is created with many different unique elements, from her weave of thread to her face of a Crown Royal sack, wearing a body suit of jute, and gold trim, down to the wood veneer chancletas, (and if you look real closely at her, you can even see part of Ahol's beard).  She is standing next to a beautiful, most creative version of a Miami Palm tree constructed of Kool cigarette packages, and pencil sharpening for a trunk.
It is the background of this work, that allows the viewer to get a true sense of the artist, and the real city that he calls home, Miami. Filled with cigarettes, Taco Bell packets of hot sauce, cocaine baggies, pills, and Chinese fortunes, intertwined with spliced collaged photos of random people, palm trees, la Virgen de la Caridad de Cobre, his bus pass and jury duty notices, we see how the artists lives, and shows off the city that he loves. You will see something different every time that you look at it.