---
---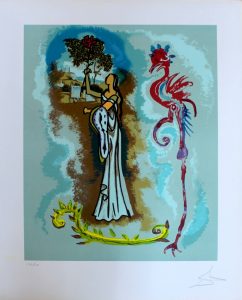 Salvador Dali
Rowena, from Ivanhoe Suite
1978
Lithograph
29 1/2 x 21 1/2 in.
Edition of 250
Pencil signed and numbered; certified authentic by Frank Hunter of the Salvador Dali archives in New York on verso
---
---
About the work:
Salvador Dali often explored literary characters in his works. Tristan and Isolde or Don Quixote are well-known series of work by the artist. He also created work based on the romantic novel Ivanhoe.
This week's Work of the Week! WOW! is Rowena, from Ivanhoe Suite.
Ivanhoe was written by Sir Walter Scott in 1819. The story was set in medieval England during a time of political tension between the Anglo-Saxons and Normans. This created a divide between the protagonist Sir Wilfred of Ivanhoe and his father. Ivanhoe, the son of a wealthy nobleman and of Anglo-Saxon descent was disinherited by his father Cedric of Rotherwood for supporting a Norman king, and for falling in love with Lady Rowena whom Cedric looks after.
Ivanhoe and Rowena are in love throughout the novel, however Cedric forbids their marriage as he would like Rowena to marry Lord Athelstane, a powerful Anglo-Saxon contender for the crown. During a jousting tournament, Ivanhoe is wounded and his healer, Rebecca falls in love with him.
So many obstacles lie in the path of Ivanhoe and Rowena to marry, which Dali captures through symbolic images. Rowena is seen holding a melting clock, one of Dali's most iconic images, which symbolizes the lost time for the two lovers. Rowena is holding a single rose, which symbolizes Ivanhoe and his love for Rowena. Another meaningful image is the presence of a seahorse with Dali's ever so famous stork legs. The seahorse was considered a good luck charm in many old cultures, symbolizing the strength of the subconscious and persistence, which is relevant to the two lovers character and their desire to be together.
Despite the obstacles, Ivanhoe and Rowena are together in the end. Rebecca leaves England to study medicine in Spain, and Cedric of Rotherwood gives his blessing for the two to marry.