GREGG SHIENBAUM FINE ART
is proud to present its second editioned work with Miami Artist
AHOL SNIFFS GLUE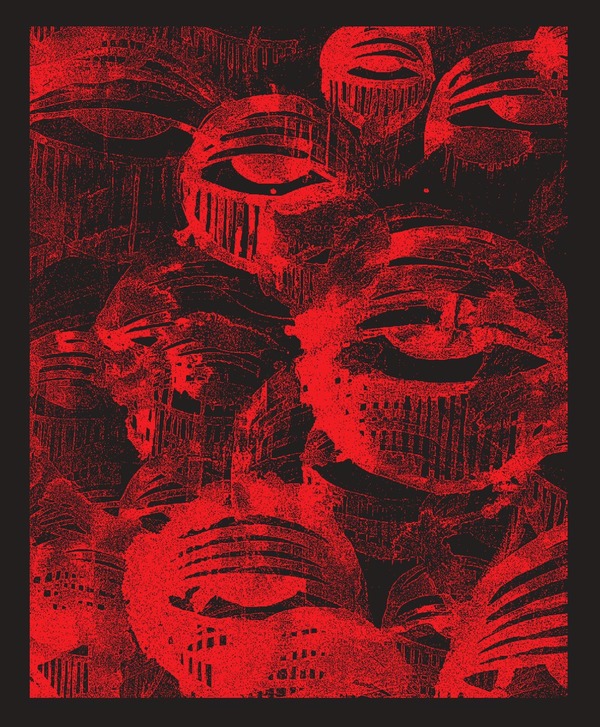 Limited to only 50 pieces.
This new work titled "REDRUM" is in the style of Abstract Expressionism. Highly influenced by this movement, Ahol breaks away from his well known style of  the "classic pattern". In this screenprint the viewer can see the brush strokes of raw emotion poured into the work.
This print is a very meaningful work to the artist.  It is his first screenprint on paper published with Gregg Shienbaum Fine Art, and it is a work that depicts his feelings about the state of our nation and the world.
Ahol's Eyeballs represent the eyes of the working class.  Usually seen in his typical pattern, Ahol paints these eyes to let the everyday working class person know that he is with them.  Painted on walls, cars, canvas, and anywhere he can, Ahol throws up a shout out to the regular guy, just going through the daily grind, of just making it to survive.
REDRUM (Murder spelled backwards), depicts the sad state of the killings in our communities, here at home, and around the world.
Innocent victims being shot down for just trying to get by, and live their lives.  Whether it is everyday working people in our streets and communities, law enforcement, people at a night club, or a someone overseas. This new screenprint by Ahol depicts the chaos, the turbulence, the anger, and the sadness of what is going on in our neighborhoods.
Painted in fluorescent red ink, to symbolize the blood spilled, and running through our streets, this expressionistic style allows for more artistic freedom that the Ahol has been wanting to achieve. This style  not only portrays the tension, and whirlwind of emotions that effect the people and the community, but also gives us a sense of the artist's pure inner feelings.  This new style has more of a free flowing quality, that shows the artist's emotion, growth, depth, and dimension.
GREGG SHIENBAUM FINE ART IS PLEASED TO BE PART OF THIS
NEW WORK, AND CREATIVE PROCESS!!
The details of this new edition are below.
Ahol Sniffs Glue

REDRUM

2016

Fluorescent red ink screenprint on French Construction Blacktop 80# Coverweight card stock

25 x 19 in.

Edition of 50

Signed and numbered

$300 
---
Ahol Sniffs Glue signing the REDRUM screenprints.
Click HERE to see the video of Ahol signing the screenprints.