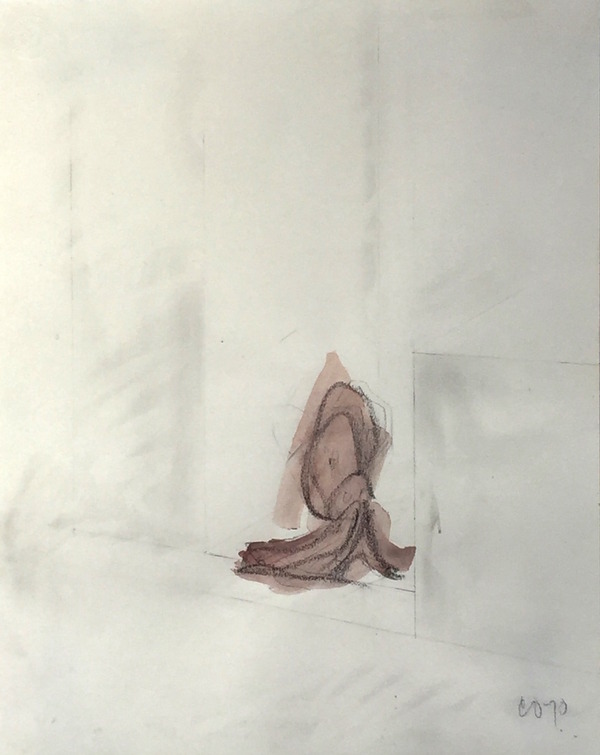 CLAES OLDENBURG
Typewriter Eraser
1970
Graphite and watercolor on paper
14 1/2 x 11 1/2 in.
Pencil signed and dated
About This Work:
Claes Oldenburg is an American sculptor, best known for his public art installations typically featuring very large replicas of everyday objects. 
This beautiful drawing represents a typewriter eraser, a recurring object in Oldenburg's work.
Why a typewriter eraser? Many of Oldenburg's works depict mundane objects and, at first, they were ridiculed before being accepted by the art world – but they were also defined "brilliant", due to the reaction that the pop artist brought to a "dull" abstract expressionist period. 
Oldenburg creates a distinctive order of objects. First, they are things made and utilized by human beings. Used, out-of-date or simply banal, they look rescued from oblivion by the artist. Isolated in a landscape or interior space and inflated in size, they are vulnerable giants. But they are not actual objects elevated to the status of art in the Duchampian tradition of the readymade.
While recreating objects, Oldenburg alters their specifics, transforming them through changes in material, scale, context and exaggerations of forms that lend them more than one identity.
A typewriter becomes also a tornado.
When turned up right we see the eraser rolling towards us with the whiskers rustling in the air resembling a tornado. In this particular drawing of the typewriter eraser we see the subject in motion sweeping down the street like a tornado.
Drawings like this are rare "little gems", hard to find and representative of the soul of Oldenburg's objects. 
Oldenburg's drawings are continuous files of ideas from which major themes have developed. Drawings that he devotes to sculptural projects, imagined or real, appear as "proposals".
These drawings have an anecdotal character in cases where the sculpture is placed in new contexts. They chronicle the further adventures of a subject and track the creative and artistic process of this great artist.
This drawing can be considered a generative tool for the large scale Typewriter Eraser, Scale X, constructed in 1999 and now located at the National Gallery Of Art Sculpture Garden, in Washington D.C.