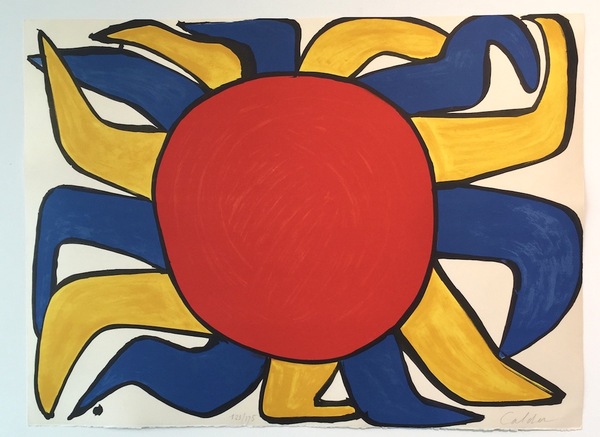 ALEXANDER CALDER
Untitled (Sun), from Our Unfinished Revolution Portfolio
1975
Lithograph
22 x 30 in.
Edition of 175
Pencil signed and numbered
About This Work:
Alexander Calder (1898 – 1976) is one of the most celebrated artists of the 20th century.
Born in Pennsylvania, Calder was interested in creating movable objects from a young age. His father and grandfather were both well-known sculptors, his mother was also a professional painter.
Calder's parents did not want him to suffer the life of an artist, so they made him study mechanical engineering. However he decided to pursue a career as an artist, and moved to New York City to study painting.
Subsequently, upon moving to Paris in 1926, Calder began creating large-scale mechanical installations of intricate circus scenes, featuring wire sculptures with moving parts that he would operate over a two-hour performance session. Building off of his so-called Cirque Calder, he began sculpting portraits and figures out of wire, and received critical attention, exhibiting these works in gallery shows in New York, Paris, and Berlin. 
While in Paris, he befriended several important Abstract artists, including Joan Miró and Piet Mondrian, and was invited to join the group Abstraction-Création in 1931.
Influenced by Miró for the playful shapes and by Mondrian for the use of strong and primary colors, Alexander Calder's work is generally known for its playful dynamism and, following the principles of Abstraction, his paintings were always non-objective and abstract.
Inspired by the work of his fellow artists, he incorporated abstract and kinetic elements into his sculptures, the artworks that he is best known for, today. Calder's sculptures of movable parts were christened "mobiles" by Marcel Duchamp, a French pun meaning both "motion" and "motive". 
Many of Calder's works on paper and his printwork are studies, tests and theories about his sculptures. As Calder's sculptures moved into the realm of pure abstraction in the early 1930s, so did his works on paper and prints. The thin lines used to define figures in the earlier prints and drawings began delineating groups of geometric shapes, often in motion.
This work from the portfolio Our Unfinished Revolution, is a two-dimensional insight into Calder's three-dimensional world.
One can get a sense of Calder assembling elements that balance themselves naturally by weight, surface area, and length of wire "arm" through these prints and studies.
This work shows the equilibrium and harmony of his work. All the forms, size of the shapes and colors are perfectly and effortlessly balanced inside the space of the paper.
Alexander Calder has had several retrospectives, and, among many other awards, was honored with the Presidential Medal of Freedom and the Bicentennial Artist Award from the Whitney Museum of American Art in New York City in 1976. The Guggenheim Museum showed a retrospective of his work in 1964.