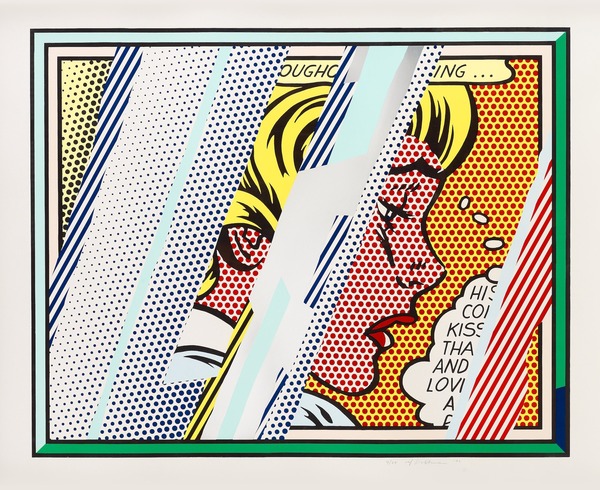 Roy Lichtenstein
Reflections On Girl
1990
Lithograph, screenprint, relief and metalized PVC collage with embossing on mold-made Somerset paper
45 1/8 x 54 3/4 in.
Edition of 68
Pencil signed, dated and numbered
About This Work:
Pop art legend Roy Lichtenstein, born in Manhattan in October of 1923, began his studies in New York but finished at Ohio State University and thereafter began teaching at different universities, a profession he continued until 1964.
During that time well known art dealer Leo Castelli started displaying his works in his gallery. In 1962, Roy Lichtenstein had his first one-man show where the entire collection was purchased by collectors before the opening. Lichtenstein's fame grew internationally from that point.
He became known for his bold colors, thick lines, and use of comic strips to influence his work. His very personal and unique style derived from comic strips which portray the trivialization of culture, endemic in contemporary American life. Using bright, strident colors and techniques borrowed from the printing industry, he ironically incorporates mass-produced emotions and objects into references to popular icons and art history.
Lichtenstein has often explored the theme of Reflections, incorporating them in various paintings and several print series. In 1988 Lichtenstein began working on a group of Reflections paintings, in which the central image is partly obscured by reflective streaks, as if behind glass or reflected in a mirror.
This week's work of the week, Reflections On Girl, is considered to be an iconic work. It is a perfect example of Lichtenstein's style. A style made of primary colors – red, yellow and blue, heavily outlined in black. Instead of shades of color, he used the ben-day dot, a method by which an image is created, and its density of tone modulated, through the position and size of a myriad of dots during the printing process.
Lichtenstein used an image he found in an edition of the comic book Falling In Love as the basis for the female figure in this image. Lichtenstein seems to create an intentionally stylized and stereotypical image of a 1960's beauty. In the original cartoon, text above the image read: 'Fire seethed through my body … fanning … spreading', while the girl's thought-bubble reads, 'H-He couldn't kiss me that way and love someone else!'.
Reflections On Girl is a very important print from a very important series by Lichtenstein. It has everything that one would want in a Lichtenstein work. The lines, the benday dots, the bright colors, the cartoonish girl figure, and the bubble letters.
It really does not get much better than this piece.