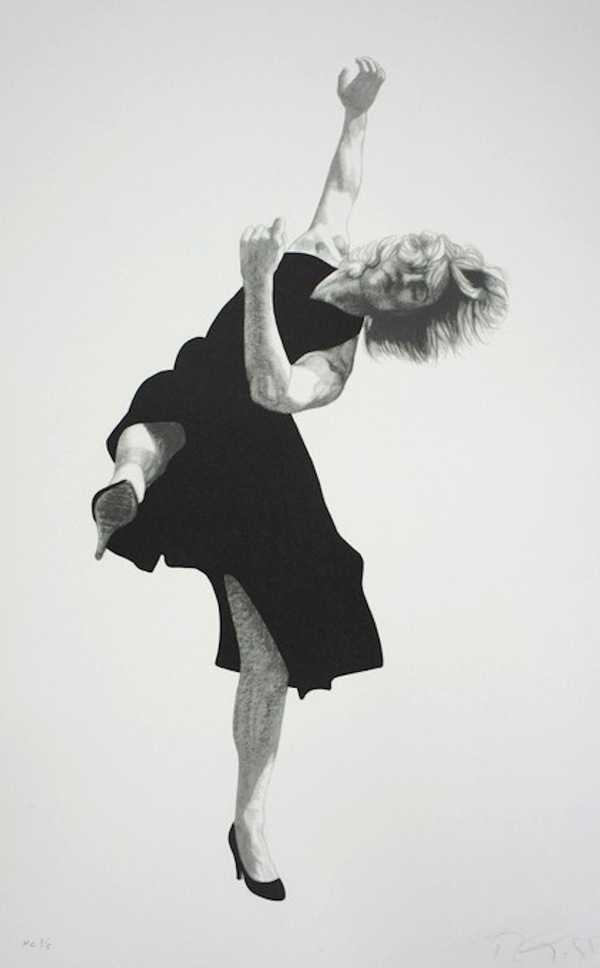 Robert Longo
Untitled, from Men In The Cities
1993
Lithograph
22 5/8 x 14 1/8 in.
Hors Commerce (H.C.) of 5
Pencil signed and numbered
About This Work:
Robert Longo was born in 1953 in Brooklyn, New York and raised in Long Island. 
This multi-faceted multi-talented artist has shot films, music videos and cut records, working with a variety of media. Yet, his most well known body of work is Men In The Cities, a series of graphite and charcoal drawings of smartly dressed men and women that he started in 1979. 
Although Longo extensively studied sculpture during his years as an art student, drawing remains his favorite form of expression. The sculptural influence prevails in his drawing technique, as his "portraits" have a distinctive chiseled line that seems to give his drawings a three-dimensional quality.
Longo had a childhood fascination with mass media: movies, television, magazines, and comic books, which continue to influence his art to this day.
The idea for this series came from a still image in Rainer Werner Fassbinder's neo-noir film The American Soldier (1935), in which a hired assassin does away with a number of undesirables. One gets shot in the back and Longo was intrigued with the body position when shot. Thus the Men In The Cities concept was born. 
About four years passed before Longo turned the vision of a man shot in the back into a monumental series of drawings. He produced about 60 Men In The Cities between 1979 and 1982. Taking in also the rock star poses popularized by music videos of the 1980's, the preppy men's clothing and the rise of Wall Street, these pictures embody the spirit of the age in a way that few works ever manage to.
Fascinated by the arrested gestures of the figure, which reminded him of the spasmodic movements of punk musicians and fans, to achieve these gestures, Longo invited his friends to the rooftop of his Manhattan apartment, tied ropes around them, and pummeled them with tennis balls and other objects and made them over-react to loud noises, while he photographed their reactive movements. The images were then projected on to paper, and Longo drew over them in great detail.
Those friends included the fellow fine artist Cindy Sherman and Larry Gagosian. Today, both Sherman and Gagosian are towering figures within the art world, yet 35 years ago their future, as well as Longo's, was far from assured. "Robert shot us in free fall, looking like we were dead" Sherman recalled in 2009. "A feeling of force and energy emanates from these photographs. Now I see their choreographic aspect. I see youthful optimism. Creating these poses became a sort of dance, and I think that's why I remember having such a good time".
These aggressive movements of men and woman in business attire, have an elegance and grace that is entirely unexpected. They are protective reactions and exaggerated gestures that have here been turned into a choreography, a ballet, if you will. The movements are fresh and vital, full of energy and life. They document an essence of human motion, boiled down to pure expression.