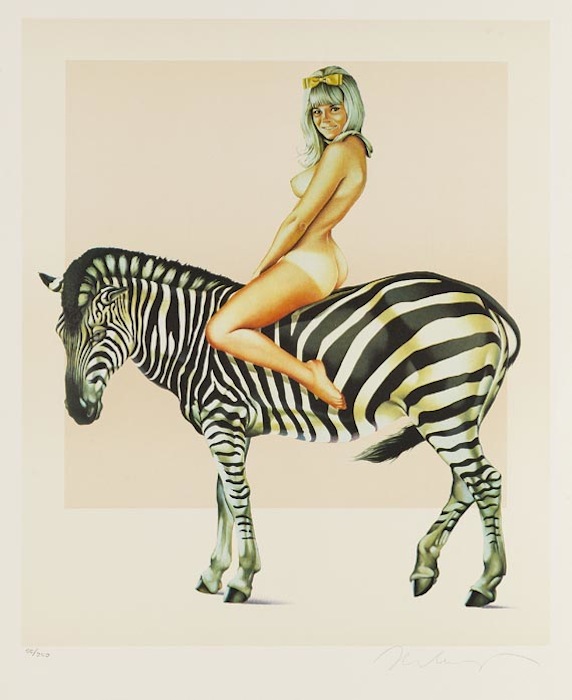 Mel Ramos
Zebra
1979
6 color lithograph
25 1/2 x 20 1/2 in.
Edition of 250
Pencil signed and numbered
About This Work:
Mel Ramos (born 1935) has been an American Pop master of the erotic nude female figure since the 1960's. Mr. Ramos' art captures the enticing ideals of femininity through bright saturated colors in the aesthetics of pin-up magazines and famous nude paintings from art history. As many of his Pop artist contemporaries, Mel Ramos started his career in commercial art, making neon signs and also took courses in typography. Under the wing of his mentor, Wayne Thiebaud, Mel Ramos eventually dedicated himself fully to fine art. 
Wonder Woman, Sheena – Queen of the Jungle, Camilla, Roma, Cave Girl, and Nile Queen were the female inspirations for the artist. Strong women from distant times and exotic places endowed with magical powers and overt physical charm were the heroines of body of work. 
As his East Coast contemporaries, the artist also featured the branding of products and advertising in his works, addressing American post war consumerism but in a lighter, more playful manner. The woman figure, however, always remained the centerpiece and focus of the paintings. 
Mel Ramos' first solo exhibition took place at Bianchini Gallery in 1964 and soon thereafter, in 1967 had his first museum show at the San Francisco Museum of Modern Art. 
In 1979, the artist produced a series of fine art lithographs based on a suite of "Animal Paintings", which depicted a nude woman with an animal. In each of these paintings, the artist chose strong, exotic, and erotic animals, such as a rhinoceros, curassow or ocelot to feature alongside the nude female.
This week's Work Of the Week is entitled Zebra, and it was part of the "Animal Paintings" suite. It is a fine example of the playful imagery of Mel Ramos' work. A sexy,  young, nude woman sits atop a zebra, looking directly at the viewer. Her hairstyle, yellow ribbon and tan lines add to the cheekiness of the image and also depict a more innocent era in which women were more coy and demure, leaving more to the imagination. The later works of Mel Ramos are more revealing and "in your face," which reflect the shift of society's acceptance of a more sexualized culture today.
The charm of the artist's earlier work bring us back to a more innocent, nostalgic, flirtatious time.