---
---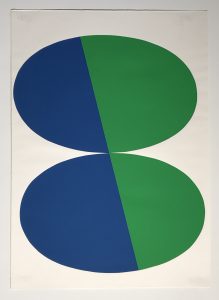 ---
---
Leon Polk Smith
Volair, from Constellation Series
1975
Screenprint
41 1/8 x 29 1/2 in.
Edition of 80
Pencil signed and numbered
About the work:
Considered one of the founders of the hard-edge style of abstract art, Leon Polk Smith rose to prominence in the 1960s with his distinctive shaped canvas series — the "Constellations".
This week's Work Of the Week (WOW!) is the 1975 screenprint Volair, from this important Constellations Series
It was in 1936, while attending Columbia University's famed Teachers College, that Smith was introduced to the geometric works of contemporary European artists. The works of the Dutch artist Piet Mondrian caught his eye during his studies. He was deeply inspired by Mondrian's aesthetics, if not fully convinced by the philosophy behind them. A pragmatic American in his approach, Smith took what he wanted from the aesthetic experience and discarded the theorizing.
However, it would be another few years before the influence of De Stijl, the movement inspired by Mondrian in which pure abstraction is achieved through form and color, clearly manifested itself in Smith's work. His perceptions of artistic space led to a quest to make color and form one. This quest consisted of a series of intuitive decisions rather than the theoretical, ruminative creative process that preoccupied Mondrian and other members of the De Stijl group.
Smith established his key motif while perusing an athletic catalogue in the late 1940s. Examining the pencil drawings of baseballs and tennis balls in it, Smith began to imagine that from these simple shapes he could create a new kind of space.
As he described:
"It was flat and the same time it was curved. It was like a sphere. The planes seemed to move in every direction, as space does. And so I thought, maybe that is because that's on the tondo. I've got to find out if that is true or not. I've got to do some on a rectangle to see if the form and the space still moved in every direction. And it did. So it was exciting to do a painting on a rectangle that seemed to have a curved surface. It was the first time, you see, that I had made an important step myself, or contribution in art."
While his Minimalist peers during that time were shifting away from Modernism and rejecting relationality, Smith was wholeheartedly advancing the formal and rational elements of the Modernist tradition. By introducing a single curving line, Smith created two pictorial spaces, allowing for the interchangeability of positive and negative space. He developed his signature hard-edge style over the following decade, beginning with creating a series of paintings in which he explores the circle by developing a curvilinear shape within it using two colors, and later experimenting with more colors in oval, rectangular and square shapes.
By 1967, Smith's circular explorations introduced additional panels and defined his shaped, multi-part "Constellation" series of paintings and drawings, among his most exuberant and inventive compositions.