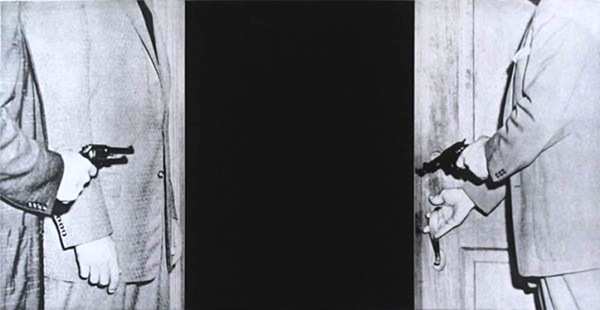 John Baldessari
Large Door
1986
Photogravure and aquatint on torn Rives BFK aper
20 x 38 in.
Edition of 35
Pencil signed and numbered
About This Work:
"Fingerprints and footprints can be repeated, and that's why I make prints endlessly"  – John Baldessari
John Baldessari has created a formidable body of editions and artist's books in his lifetime. His irreverent and playful prints require an intellectual workout as rigorous as any other medium in which he chooses to work.
A self-described "failed writer" who "builds with images the way a writer builds with words", Baldessari's work is concerned with the idea of visual information as signifier and a means of communication, combining stock imagery, colors, and text to create intricate and taut visual ambiguities. His aim is to create enough "tension" between found images in order to illicit questions and curiosity.
Using found photographs as source material – primarily stock images from early Hollywood films, newspaper photographs, and postwar advertising –  Baldessari was drawn to the generic nature of such images, their role in creating a shared visual culture, and the power they have to reveal subconscious thoughts and uncover the viewer's "emotional baggage".
In 1986, Baldessari created a series of 10 prints, to do just that. This series, entitled Hegel's Cellar, used stock imagery in montages to examine Hegel's theory of an "abyss (or cellar) as a psychic space where one preserve[s] images unconsciously" (Wendy Weitman in The Prints of John Baldessari: A Catalogue Raisonne 1971–2007, pp. 23-24).
The idea was brought out while Baldessari was in psychotherapy at the time, and he had started to let emotion (but not his own emotions) into his work. The presence of fear, anxiety, lust, horror, and other states was a new element, but their frequently jarring context was not; he was on the lookout for the unexpected associations generated by random images in close proximity.
This week's Work Of the Week (WOW) is Large Door, from Hegel's Cellar.
Faced with the dilemma or option of either being killed or stepping into the abyss, represented by a large black rectangle of equal proportion as the men on both sides carrying pistols, Baldessari is challenging the viewer to fill in the blanks.