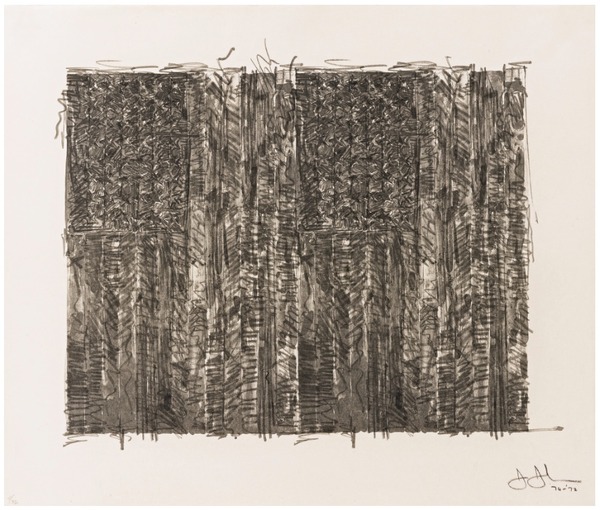 JASPER JOHNS
Two Flags
1970-72
Lithograph
27 3/8 x 32 1/4 in.
Edition of 36
Pencil signed and numbered
About This Work:
"Jasper Johns did not make a painting of the American flag,  he made the American flag a painting" – Ron English
Jasper Johns was born in 1930 in Georgia, and from an early age, he grew up wanting to be an artist. When in New York City, where he moved to in his twenties, he met the artist and future long-term lover Robert Rauschenberg, choreographer Merce Cunningham, and composer John Cage, all of whom profoundly influenced each other.
In 1958, Johns entered the public eye when dealer Leo Castelli, impressed with the creativity and simplicity behind Johns' works, noticed him; at age 28, Johns was awarded a show at Castelli's gallery, which then lead to his first sale, 3 paintings bought by the Museum of Modern Art in New York.
Jasper Johns is now one of the most acclaimed and influential American artists of the 20th century.
His career began with a desperate act. At 24, in 1954, two years after he was discharged from the U.S. Army, he destroyed nearly all his art. Then came a kind of vision. "I dreamed I painted a large American flag". The next morning he began doing just that. His thoughts must have been racing; the enamel house paint he was using wasn't drying fast enough to capture them. So he switched to wax encaustic. This ancient medium, made of heated beeswax mixed with pigment, dries almost immediately, preserving and showing every brushstroke. 
This painting was the first of about 100 works that Johns has said were inspired by the dream of the American flag, the painting for which Johns is best known.
Jasper Johns's selection of the American flag allows him to explore a familiar two-dimensional object, with its simple internal geometric structure and a complex symbolic meaning. He was attracted to painting "things the mind already knows", and claimed that using a familiar object like the flag (but also targets, letters or numbers) freed himself from the need to create a new design and allowed him to focus on the execution of the painting. 
Jasper Johns' flag is not just an artwork; it has become one of the most important symbols in the American art. When the first flag was released, critics were unsure whether it was a painted flag or a painting of a flag; Johns later said it was both. For this reason, this work is often described as  a piece of Neo-Dadaist and Conceptual art. Due to the playfully subversive appropriation and use of a commonplace icon, it also anticipates aspects of Pop Art.
In the middle of the 1950s, the flag found itself as the bridge between the expressive artistic flow of the dominant Abstract Expressionism and the recognizable icons of the rising Pop Art culture.
Working with a semiotic ambiguity and a variety of meanings, Johns produced an artwork that was meant to be resolved within the mind of the viewer. This flag is not a realistic representation. It is frozen in its motion. This flag will never waver. It is not a flag, it is a monument to a flag. It serves to question what a painting is, and how it is to be differentiated from the object it represents.
This print, Two Flags, represents two vertical flags and it shows how the artist used to produce flags through variations of not only palette but also position, and repetition, divorcing the flag from its symbolic meaning and focusing on the materials and on the concept.

It is also clearly monochromatic. This monochromatic image introduces another important feature of Jasper Johns' career. Jasper Johns painted 11 monochromatic flags, of which 7 are gray. In Two Flags, Johns used gray to establish uniformity between flat surfaces and dimensional objects. The color gray has been a singular and unparalleled preoccupation for the artist, and it became the protagonist of Jasper Johns' so-called Gray Period, which goes from 1961 to the 1970's. The year 1961 is significant, since it is the year in which Johns's influential working relationship with the artist Robert Rauschenberg dissolved.
Initially serving as a means of emphasizing the physical properties of an object by draining it of color and emotions (he often used to say that he liked "to paint with no emotions"), the artist's employment of gray has evolved into a larger concern. Gray, black, and white exist in Johns' work not just as colors, but also as ideas and materials. Jasper Johns, indeed, believed the process to be the most important part of making an artwork (This fact led him to experiment with countless media, such as oil, encaustic, ink, pencil, collage and relief, and a prolific career in print making).
In November 2014 one of Johns' encaustic flag paintings was auctioned off for $36,000,000 at Sotheby's New York.

It is unbelievable that, back in 1955, Jasper Johns completed a painting that seems to take a second to see but a lifetime to come to terms with.
Jasper Johns' flags will always encapsulate the ambivalence of "Is this a flag or is it a painting?". Flag will never conclusively answer the question.