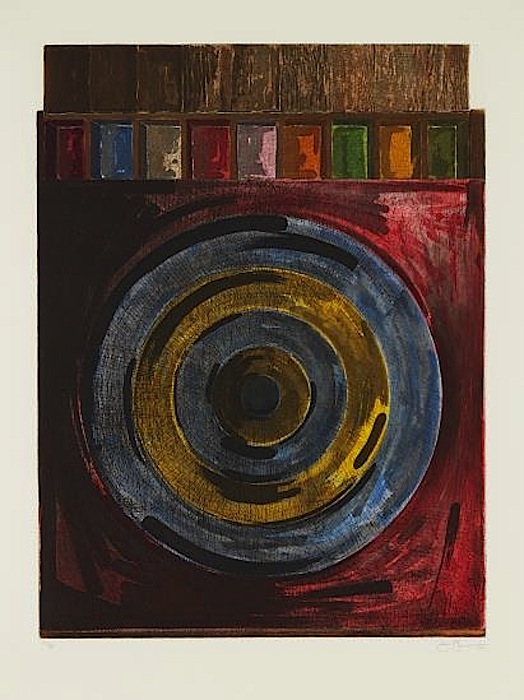 Jasper Johns
Target With Plaster Casts
1979 – 80
Etching and aquatint in colors on BFK Rives paper
29 1/2 x 22 3/8 in.
Edition of 88
Engraved signed, dated and numbered
About This Work:
Jasper Johns is one of the most acclaimed and influential American artists of the 20th century.
Born and raised in Augusta, Georgia, Jasper Johns grew up wanting to be an artist. He studied briefly at the University of South Carolina before moving to New York in the early Fifties. After a visit to Philadelphia, with his good friend Robert Rauschenberg, to see Marcel Duchamp's painting, The Large Glass (1915-23), Johns became very interested in his work. Duchamp had revolutionized the art world with his "readymades" — a series of found objects presented as finished works of art. This irreverence for the fixed attitudes toward what could be considered art was a substantial influence for Johns.
Johns' richly worked paintings of maps, flags, and targets in the late 1950's, led the artistic community away from Abstract Expressionism toward a new emphasis on the concrete. Johns laid the groundwork for both Pop Art and Minimalism. Today, his prints and paintings set record prices at auction.
In 1958, gallery owner Leo Castelli visited Rauschenberg's studio and saw Johns' work for the first time. Castelli was so impressed with the 28-year-old painter's ability and inventiveness that he offered him a show on the spot. At that first exhibition, the Museum of Modern Art purchased three pieces, making it clear that Johns was to become a major force in the art world.
This weeks Work Of the Week is Jasper Johns' Target With Plaster Casts.
This work represents one of Jasper Johns' most famous subjects: the target.
The image of the target emerged in Johns' work in 1955, in paintings that incorporate frieze-like arrangements of plaster casts taken from parts of the body. The two earliest Target paintings are Target With Four Faces and Target With Plaster Casts.
Targets by Johns, feature a depiction of an actual target that is, for all practical purposes, utterly interchangeable with the real thing. However, unlike the flag or the numbers, which are also familiar images from this period of the artist's career, the flat target is simultaneously representational and abstract (a number or a flag can never be divorced from its status as a familiar sign). This makes the target susceptible to even more ambiguities.
The target allowed Johns to explore a familiar two-dimensional object, with its simple internal geometric structure and a complex symbolic meaning. He was attracted to painting "things the mind already knows", and claimed that using a familiar object like the target freed himself from the need to create a new design and allowed him to focus on the execution of the painting. 
Johns worked on this target with a sort of deadpan irony to test what one expects a work of art to do. A painted target automatically negates the use of a real one, and its use is lost. It stops being a sign and becomes an image, where the center is not more important than the other circles that form it.
Meanwhile, the "plaster casts" on the top part of the artwork represent bits of the human body (foot, nose, face, hand, ear, penis, heart, breast, and lungs) set in their boxes. They are transformed in exactly the opposite way. Their anonymity makes them like fossils or even more, like words, signs that stand for classes of things. One would like to see them as elements of a portrait, but they cannot be read in that way. They are images turning into signs. 
And so, in Target With Plaster Casts, two systems of seeing are locked in perfect mutual opposition, the sign becoming a painting and sculpture becoming a sign.
These kind of works by Jasper Johns were extremely new to the museum goers and art lovers, especially at a time in which the art world was searching for new ideas.
Johns artworks were something which were never seen before. The distinct style, and the simplicity behind it, eventually captured the interest of the art world.
Over the past fifty years Johns has created a body of rich and complex work. His rigorous attention to the themes of popular imagery and abstraction has set the standards for American art. Constantly challenging the technical possibilities of printmaking, painting and sculpture, Johns laid the groundwork for a wide range of experimental artists. Today, he remains at the forefront of American art, with work represented in nearly every major museum collection.