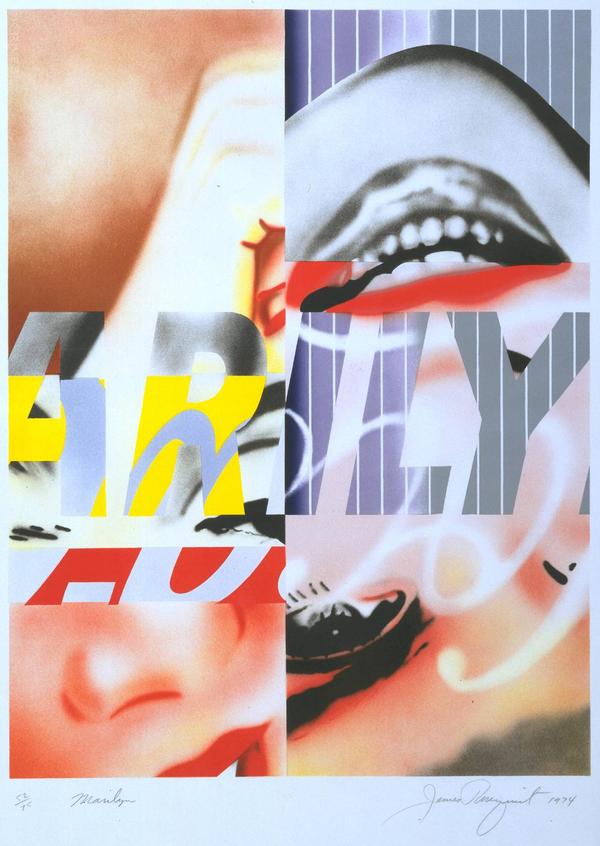 James Rosenquist
Marilyn
1974
Lithograph
41 3/4 x 29 1/2 in.
Edition of 75
Pencil signed, titled, dated and numbered
About This Work:
With the recent passing of James Rosenquist, Gregg Shienbaum Fine Art is dedicating this week's Work Of the Week to the icon and pioneer of Pop Art. 
James Rosenquist started his career as a sign painter of commercial billboards, which is often reflected in his large-scale paintings through a flat, uniform, and graphic style. Much of his inspiration was drawn from the advent of large-scale advertising and mass media. The bright hues and precise renderings convey the new, clean, and sterile environments so often used in advertising. However, while on the surface, his works appear to suggest the American Dream of the 1950's and 1960's, an underlining message addresses the potential issues American society will confront, and be confronted with, during this emergence of the thriving economy of the postwar.  
One of Mr. Rosenquist's most famous painting, F-111 is an 86-foot-long commentary on the duality of Americana in 1965 at the height of the Vietnam War. 23 panels juxtaposed a mushroom cloud, a smiling girl, a bomber jet, a beach umbrella, among others. Debuting at the Leo Castelli Gallery in NYC, the piece caused a sensation in the art world. 
Another well-known work is Marilyn Monroe I. Measuring 7' 9" x 6' ¼", this large-scale oil and spray enamel on canvas is a tribute to the sex symbol, created shortly after her sudden death in 1962. Through this work, Rosenquist took upon himself to share with his viewers a more sophisticated message – one that consisted of more than the usual glamourous image of Marilyn Monroe so many artists have utilized. The imagery we are so accustomed to associate with the movie star was transformed, and Rosenquist chose to present her in a manner that denied the immediate recognition, while preserving her coquettishness. One must observe the piece very closely to understand who it is the viewer is confronted with. Monroe's face is divided into six panes removing her instant recognition, however, Rosenquist demonstrates a unique ability to transmit her spirit. All of Monroe's features, her eyes, lips and hand, have been fragmented and placed together in an incoherent manner, with bold lettering painted on top in the same disjointed configuration. 
Clearly visible, but also in a fragmented manner, is the Coca-Cola logo, but on closer inspection, overlaying letters of Marilyn Monroe's name also become apparent. James Rosenquist, being very familiar with the force of branding, mass-production and popular culture, was able to draw attention to the idea that Marilyn Monroe was as important to commercialism and industry as any every day products such as Coca-Cola, drawing upon the message beyond her as a person, but as Marilyn Monroe packaged in the mass media and marketed based on her sex appeal. Rosenquist's painting of Marilyn Monroe is one of countless others painted by his contemporaries, including Andy Warhol and Willem de Kooning, that attest to the increasing power of mass media and its impact on art production during the 1960's.
The Marilyn lithograph became available in 1974 and was published by Petersburg Press Inc. in an edition of 75. It is housed in the MoMA and Tate, among many other prominent collections. 
Rosenquist was born in 1933 and passed away in New York City on March 31st 2017 after an illustrious career, which cemented him as one of the most important and influential American artists of our time.