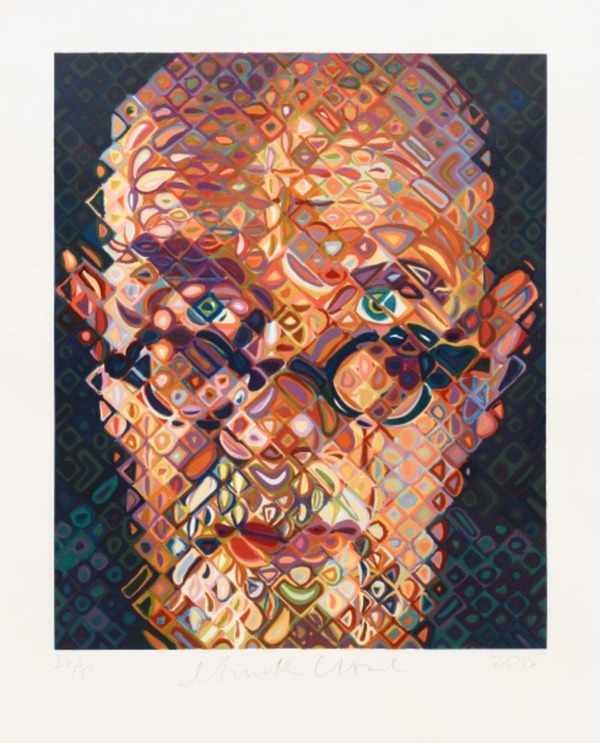 Chuck Close
Self Portrait
2015
84 color woodcut
47 1/4 x 37 in.
Artist's Proof (A.P.) of XII
Pencil signed and numbered
About This Work:
Chuck Close is an American photographer, photorealist painter, and printmaker. Most of his works are large-scale portraits based on photographs of his family, friends, himself, and fellow artists. His works hang in the world's most prestigious museums, and he is considered to be one of the most influential people in the art world.
Close always liked to draw, and at age of 4 he knew he wanted to be an artist.
Having a difficult time with academics due to dyslexia, although teachers were often impressed with his creative approach to projects, made his decision to become an artist that much easier. Once in college, and upon deciding to make a career in art, he excelled.
In 1962, Close received his BA from the University of Washington, in Seattle. He then attended graduate school at Yale University, where he received his MFA in 1964. After Yale, he lived in Europe on a Fulbright grant. When he returned to the U.S., he worked as an art teacher at the University of Massachusetts. In 1969 his work was included in the Whitney Biennial, and he had his first one man show in 1970. Close's work was first exhibited at the New York Museum of Modern Art in early 1973.
Chuck Close is globally renowned for reinvigorating the art of portrait painting from the late 1960s to the present day, an era when photography had been challenging painting's former dominance in this area, and succeeding in steadily gaining critical appreciation as an artistic medium in its own right.
Close emerged from the 1970's painting movement of Photorealism, also known as Super-Realism, but then moved well beyond its initially hyper-attentive rendering of a given subject to explore how methodical, system-driven portrait painting based on photography's underlying processes (over its superficial visual appearances) could suggest a wide range of artistic and philosophical concepts.
His portraits are exquisite, exacting realism from photographic sources, playing with ideas of scale, color, and form. The artist builds his iconic paintings through a signature grid system where each square is individually marked and colored, corresponding with a cell marked in his photographs, which, although abstract up close, form unified, highly realistic images from afar.
Close's dependence on the grid as a metaphor for his analytical processes, which suggest that the "whole" is rarely more (or less) than the sum of its parts, is a conceptual equivalent for the camera's analytical, serial approach to any given subject. Every street-smart, colorful Polaroid is as much a time-based and fragmentary gesture as any more laborious stroke of the painter's brush in the cloistered studio.
Close's artificially restrictive painting techniques stem in part from physical limitations. He was diagnosed at a young age with prosopagnosia, also known as face blindness, in which he is unable to recognize faces.  Then, in 1988, Close had a spinal artery collapse that left him a quadriplegic. Many thought his career was over, but not only did he return to painting, he returned with a new style that has kept his place as one of the great American painters of our time.
In 2000, Chuck Close was presented with the prestigious National Medal of Arts by President Clinton. Close is a member of the American Academy of Arts and Letters, has served on the board of many arts organizations, and was recently appointed by President Obama to serve on The President's Committee on the Arts and the Humanities.
THE SELF PORTRAIT:
Abandoning the full-body view, Close turned to one of the oldest traditions anywhere in art history, the self-portrait. Close had partially set out to refute the critic Clement Greenberg's claim that it was impossible for an "advanced" artist to work in portraiture. Closes's untraditional approach involved conceiving of and creating a unique kind of "mug shot", that exacerbated the subject's blemishes and the original photographic distortion caused by the camera.
This weeks Work of the Week is Self Portrait, 2015. This work is a perfect example of Chuck Close creating a "mug shot" of himself by using grids of colors, forms and shapes, that he is so famously known for. When viewing a Self Portrait by Chuck close, the viewer witnesses the development of Close's artistic style and the change of his own identity and way of looking at himself over the years.