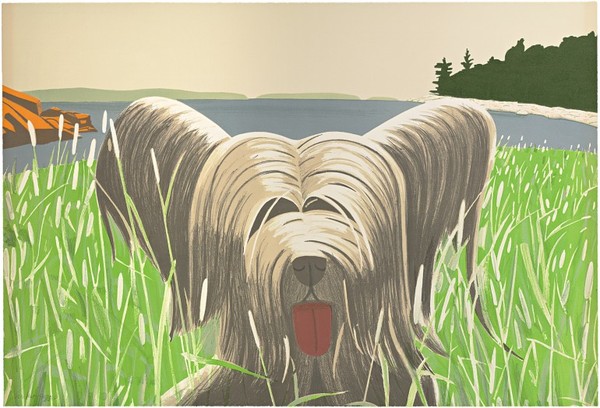 Alex Katz
Dog At Duck Trap
1973 – 73
Lithograph
29 x 43 in.
Edition of 90
Pencil signed and numbered
About This Work:
Alex Katz is an American painter of portraits and landscapes. He started working on these themes during years dominated by non-figurative art, which he always strongly avoided.
Living in New York City, since the 1950's Katz spends his summers in Maine, which has been his source of inspiration for many of his works.
He is mostly known for his portraits: the people he depicts are colleagues that surrounded him during his career, members of his family, friends or neighbors.
The works of Alex Katz are always very recognizable. They are all characterized by an unmistakable flatness and lack of detail. To represent a shadow or light, he uses  slight variations of colors. Many times, monochrome backgrounds represent another defining characteristic of his style.
These portraits do not own a clear narrative – it is not important for the viewer to know the story behind the artwork. What Katz tries to emphasize is actually the beauty of the subjects. The use of gentle colors and the emphasis of a few but significant details  turn the coldness of the sharp lines, lack of detail and flatness into an artwork warm for the viewer to enjoy.
The genius of Alex Katz's style is derived directly from one of Katz's biggest influences, the Master Japanese woodblock artist Kitagawa Utamaro (1753 – 1806), the master of Japanese woodblock color printing. His Japanese aesthetic is typically flat and bi-dimensional. He influenced Katz particularly with his use of partial views and his emphasis on light and shade.
This work, Dog At Duck Trap, it is slightly different from Katz's portraits. This time, the subject is not a person but an animal.
This funny little Sky Terrier is Sunny, the Katz's family dog, chest-high in coastal grasses. Sunny has been a subject of other works by Alex Katz too, exactly as the people who are depicted in his portraits. Sunny has been depicted in several different ways, but his muzzle always seems to convey a sense of happiness and carefreeness, like an endless summer.
Sunny is portrayed in a surrounding that is nothing but the coasts of the Duck Trap, a  river located in Waldo County, Maine, where Katz still spends his summers.
One can clearly see the blue of the water in the background, while all the natural environment is depicted in a very flat, lack-of-detail way, but still able to create a sense of dimensionality.
Alex Katz's works can be found in over 100 public collections worldwide. Major exhibitions of Katz's landscape and portrait painting in America and Europe followed his 1986 Whitney Museum of American Art retrospective and 1988 print retrospective at the Brooklyn Museum of Art.
He continues to spend his summers in Lincolnville, Maine.