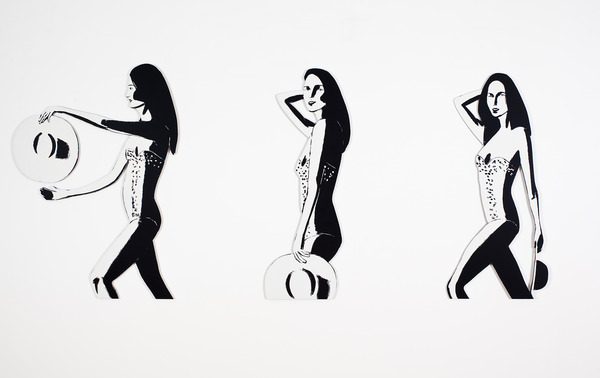 Alex Katz
Ariel
2016
Baked archival UV inks on shaped powder-coated aluminum
60 x 28 in.
Edition of 40
Engraved signed and numbered on the back of one of the figure
About This Work:
Alex Katz is an American painter of portraits and landscapes. He started working on these themes during years dominated by non-figurative art, which he always strongly avoided.
Living in New York City, since the 1950s Katz spends his summers in Maine, which has been his source of inspiration for many of his famous landscapes.
As for his portraits, the people he depicts are colleagues that surrounded him during his career, members of his family, friends or neighbors. Alex Katz's portraits are always very recognizable. They are all characterized by an unmistakable flatness and lack of detail. Color and light play a central role in his works and the design of his pictorial reality always appears with sharp, clear edges.
Well known for his many portraits of his wife and muse, Ada, Katz has also dedicated himself to printmaking and freestanding sculptures of cutout figures painted on wood or aluminum. This is the case of this week's Work Of the Week, Ariel.
Ariel is a three piece aluminum cut out set, created after a painting and a screenprint that he did in 2016 of the same name, that depicts a woman in three different perspectives in a sequence. This idea, the theme of variation, is very important to the artist. According to Katz, he was the first artist to start using the technique of repetition in his works, before the other artists of the time. He even says that Warhol took this concept from him. His studies on repetition start with a work called Ada Ada, which is one of his earliest work, and continue until today with this week's Work Of the Week, Ariel.
One can see how Katz's highly graphic depiction of his subjects adds a strong sense of individualized personality to his paintings, and his attention to details, particularly when it comes to fashion, firmly characterizes the work in his own unique aesthetic.
Alex Katz' works convey a surprisingly seductive detachment from his emotions and personal references. For example, Ariel is a recurring subject in his most recent works. But who is Ariel? Is she someone relevant to the artist or is she only a model? The answer, in the end, is not important. These portraits do not own a clear narrative – it is not important for the viewer to know the person or the story behind the artwork. What Katz tries to emphasize is actually the beauty of the subjects. The use of gentle colors, the emphasis of fashion details in his paintings turn the coldness of the sharp lines, lack of detail and flatness into an artwork warm for the viewer to enjoy.
In many ways, both conceptually and technically, the art of Alex Katz can be considered to be the bridge that gaps the traditions of abstraction and figurative art.
It's interesting to think about how Alex Katz's simplistic, unique and utterly different style was able to rival the Abstract Expressionism at the height of its development. In fact, the painter was so sure of himself that he once famously stated the following: "As artists, we compete for audiences. I'm competing with the Abstract Expressionist guys. I'll knock 'em off the wall. If you put my work next to an aggressive A.E. painting, I'll eat most of 'em up".
​Against all odds and alone with his style, Katz managed to achieve widespread critical acclaim and commercial success that only a handful of other 20th century artists have managed to obtain. Nowadays, Alex is still very active as an artist and plays the role of a conceptual guiding star to many younger generation artists.