---
---
Invader
Rubik Six Cube (Blue/Yellow)
2009-2010
Screenprint
27 1/2 x 19 5/8 in.
Edition of 20
Pencil signed, dated and numbered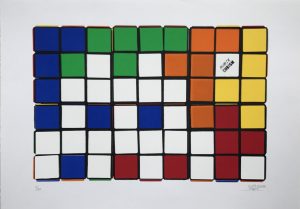 Invader
Rubik Six Cube (Orange/Yellow)
2009-2010
Screenprint
27 1/2 x 19 5/8 in.
Edition of 20
Pencil signed, dated and numbered
---
About the work:
Rubik's Cubes are meant to be solved, right?   Wrong!!  
The art of cubing takes on a different meaning under the 8-bit eyes of Invader. Twisting dozens, even hundreds of Rubik's Cubes into precise patterns of pixelated pointillism, Invader updates artistic techniques pioneered by Picasso, Duchamp, Seurat and others into a new and distinctly modern form: Rubikcubism.
Billed as the "Urban Seurat", Invader is the pseudonym of a French urban artist, born in 1969, whose work is modeled on the crude pixellation of 1970s–1980s 8-bit video games. A graduate of the École des Beaux-Arts in Paris, Invader initially derived inspiration for his creations from video games from the late 1970s to early 1980s that he played when he was growing up, particularly characters from Space Invaders, from which he derived his name. Games of the era were made with 8-bit graphics, and so lend themselves well to his method of each tile representing one pixel.
Rubikcubism:
One of Invader's most important innovations was Rubikcubism, a style of mosaic art that uses various Rubik's Cube configurations to create extremely complex images.
While most try to solve the Rubik's Cube, anonymous French Street-Artist, Space Invader has come up with another creative use for the toy. Since 2004, he has been using Rubik's Cubes to create crude-pixelated pointillism artwork. Updating and modernizing a technique pioneered by Georges Seurat and Paul Signac, Invader named the movement: Rubikcubism, and has continued to experiment with the style ever since.
This week's Work of the Week! (WOW!) is Invader's Rubik Six Cube Series. These screenprints are made up of 6 cubes, all arranged in a specific manner to create an image. In the case of this series, Invader's trademark Space-Invader, his most  iconic image of the 80's is portrayed. Coming of age in the 80's, much of Invader's artistic identity revolves around the iconic imagery and pop culture of his youth.
Given the difficulty of solving a Rubik Cube, let alone attempting to create images, Invader uses a computer program to work out the precise disposition of the six colors for each image. He then manipulates the nine pixels for each Rubik's Cube to give the required pattern.
While this series is made up of the use of six cubes, some of Invader's creations can use over 300 Cubes.  He has recreated "Masterpieces" where famous paintings by artists such as Delacroix, Warhol, Seurat, and Lichtenstein are given a work over. He has a series of Rubikcubism works entitled "Low Fidelity" based on iconic album art such as "Country Life" by Roxy Music, and The Velvet Underground & Nico.  He has also created a series of "Bad Men" where Invader reinterprets villains such as Osama bin Laden, Jaws and Al Capone.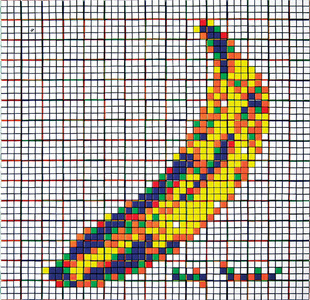 All these works and themes are relative to pop culture, and to today's world in which we live in, with a touch of nostalgia from his days as a youth.
What does Erno Rubik, the inventor of the Rubik's Cube have to say about Invader's use of his famous toy puzzle in his artworks?
When asked he says: "I'm glad the Cube is reaching new generations, who face it with fresh wonder, curiosity and enthusiasm."